Here's the programme of events at St Mary's Ware. Unless stated, entry is free. We ask you to contribute to a retiring collection in aid of St Mary's Church.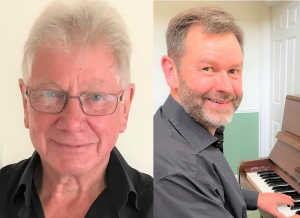 Saturday 30th October, 7.30pm
Songs of Lockdown, including Songs of Travel and other works. A vocal recital by Richard Prince, accompanied by Huw Jenkins
Drinks from the bar
Monday 1st November, 12.30pm
Recital by Jane Eldred, Colin Eldred and Barbara Manning on viola, clarinet and piano
Jane, Colin and Barbara again unlock the viola and clarinet combination.
Thursday 18 November, 12.30pm
Vocal recital by Hugh Legg, tenor
A recital of songs by Schubert, accompanied by Michael Smith.
Monday 6th December, 12.30pm
A keyboard entertainment presented by Michael and Marion Smith
Michael and Marion once more ring the changes for piano and organ duet!